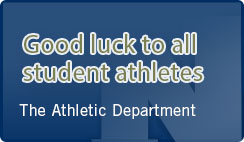 Baseball
STRIVING FOR A CULTURE OF EXCELLENCE
NEWINGTON BASEBALL CORE VALUES:
MENTALLY TOUGH & SELFLESS
**DUE TO COVID-19 ALL SCHOOL ATHLETICS ARE POSTPONED UNTIL FURTHER NOTICE
I am waiting for guidance from the athletic department.
It will be posted outside Coach Alaimo's room 313 as soon as possible.
We have purchased Navy and Gold Stirrups for this season! Players will have the choice of wearing high pants or not. Each team will discuss how they plan to roll out stirrup use. Varsity pants are white with Navy Pin.
All players please work hard to keep your grades up throughout the year. We are striving for excellence in all areas! Make learning and grades a priority.
See Coach Alaimo with any questions or help with anything.
ANY QUESTIONS ABOUT BASEBALL COME SPEAK TO MR. ALAIMO IN 313; BALAIMO@NPSCT.ORG